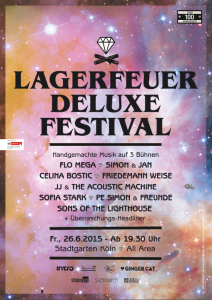 Wir feiern am 26.06.2015 unsere 100ste Show und das 10 jährige Lagerfeuer Jubiläum mit einenm ausufernden All Area Fest mit drei Bühnen im Kölner Stadtgarte. Mit dabei sind u.a. Flo Mega, Simon & Jan, Celina Bostic, Friedemann Weise, Sons Of The Lighthouse u.v.m.
Tickets bekommt Ihr bei GREATLIVE
Weitere Infos folgen!